Yasser ElKady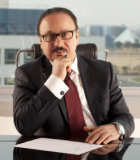 H.E Yasser Elkady was appointed Egytian Minister of Communications and Information Technology on 19 September 2015 in Sherif Ismail's cabinet. Elkady has been in the IT and Telecom industry for over 25 years with extensive experience in strategic planning, technology integration, business development and organisational transformation.
Throughout his career, Elkady has spearheaded a number of national developmental initiatives. As a First Deputy to the Minister of Investment, he led national efforts to stimulate FDI in Egypt and supervised strategic investment projects. As a board member of the Information Technology Industry Development Agency (ITIDA) and of the Ministry of Communications and Information Technology Advisory Board, he also contributed to the development of the national ICT and innovation strategy.
From October 2010 to January 2014, he was the CEO of ITIDA leading its efforts to develop the IT industry in Egypt, achieving export revenues of USD 1.4 billion and maintaining healthy growth margins for local IT vendors despite the economic downturn following the Egyptian revolution of 2011. In January 2014, Elkady became Regional Director for HP Networking in the Middle East, Mediterranean and Africa (MEMA) Region and the Managing Director for HP Egypt. 
Before joining the government, Elkady led several notable, highly successful enterprises through periods of significant growth. He established and developed the business of Cisco Systems in Egypt and the Middle East. He served as General Manager for Egypt and designed a comprehensive strategy to align Cisco Systems with the Egyptian government's vision for ICT development. He then went on to become General Manager for North Africa and the Levant. His work at Cisco Systems not only occasioned revenue growth and expansion, but was also instrumental in cultivating relationships with regional governments to enhance ICT skills and nurture talent. He established Orascom IIS as the first communication supplier in Egypt, and led Jeraisy Co. to double its market share in the space of a year.
ElKady holds a Bachelor of Science Degree in Electronics and Data Communications Engineering from Cairo University. He also received a Degree in Computer Design from California, USA.