Dr Boubakar Barry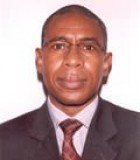 Boubakar Barry is Coordinator of the Research and Education Networking Unit at the Association of African Universities (AAU).
Prior to joining the AAU, he was Director of the Computer Centre of Cheikh Anta Diop University (UCAD) in Senegal for 8 years (1998-2006). During his tenure as Director, he set up a Regional Cisco Networking Academy serving 12 local Cisco Networking Academies as well as the Senegalese node for various projects, including AVOIR (African Virtual Open Initiatives and Resources), NetTel@Africa and DelPHE.
He has been lecturing electronics and computer networks at UCAD's Faculty of Science and Technology since 1989.
Since 1997, he is also Chairman of the Steering Committee of the Network Information Centre of Senegal (NIC Senegal) that manages the country-code top level domain .SN.
Boubakar Barry holds a MSc in Nuclear Physics -specialisation Nuclear Electronics- from Technical University of Dresden, Germany. After his MSc, he engaged in a PhD thesis athe same university during which he developed a microcontroller based equipment for the automatic isolation and monitoring of 131I in ventilation shafts of nuclear power plants.
He has more than 10 years experience in ICT policy development and implementation in Africa, and has worked since the 1990s as Team Leader or Team Member on projects and studies in the fields of ICT policy, ICT in education and telecommunications regulation.