Dr Charles G. Kwesiga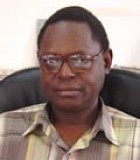 DR. CHARLES KWESIGA is the Executive Director of Uganda Industrial Research Institute in Kampala Uganda.

A trained Industrial Engineer, Dr. Kwesiga has had significant experience as a corporate manager, management consultant, educator and entrepreneur. His extensive and international exposure to executive management practice and his involvement in a diverse array of corporate assignments have given him ample opportunities to develop exceptional skills on supervision, technical problem solving, programme/project implementation and review. His operational philosophy is that a client deserves, and is entitled to, a deliverable that leads superior productivity, efficiency in operations and added value to his/her activity.
The Institute Dr. Kwesiga leads is involved in technology development, process and product development, R&D and is structured and mandated to be the lead agency in industrialization of Uganda.

He also serves the Uganda Government as a Presidential Assistant for Productivity and Competitiveness.