Moses Mwale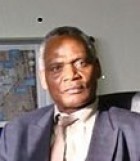 Moses Mwale is an International IT Consultant in the area of large volumes data capture and use of the scanning Technology in surveys and National population and Housing Censuses with a Mathematics background. Moses is National Chairperson of SchoolNet Zambia, is a Member of the e-Learning Zambia National Committee, a Member of the Ministry of Education ICT steering Committee. Prior to going into Consultancy, Moses was Assistant Director – Information Technology at Examinations Council of Zambia(ECZ), Ministry of Education where he established an IT department, implemented an examinations processing applications systems and started an in-house processing of the Zambia National Examinations at Primary, Secondary and High school levels;
As National Chairperson of SchoolNet Zambia, Moses is involved with working in Schools to promote the availability and use of ICTs in Zambian schools. He has worked with Teachers, Learners and School managers on various aspects of introduction and use of Computers for teaching and learning in a school environment. He has conducted research and baseline surveys on ICT's in Zambian schools.
Prior to moving to Examinations Council of Zambia, Ministry of Education, Moses was Director of Computer Services, 1987-1994, at Metal Marketing Cooperation of Zambia (MEMACO) group of companies and implemented an online Metal marketing and sales computer system for Sales, Shipping and Accounts staff in Zambia, UK and USA with a distributed file system in the 3 locations on a Wide Area Network.
Moses began his IT Career at the Zambia Consolidated Copper Mines Ltd (ZCCM) in the Technical section of the Cooperate Management Information Services Directorate supporting Mine planning, Geology and Metallurgical services Systems 1980-1987 where he was also the Programmer on a WorldBank/ZCCM Task Force that developed a mine model used to determine unit cost and to estimate ore-body reserves.
Moses was the First National Chairperson of the eBrain Forum of Zambia and a Zambia National Representative on the IFIP Telecommunication working Group - TC6 1990-1997. He was a Member of the Government Committee that drafted the 1994 Telecommunications Bill that liberalised the Telecommunications industry in Zambia, created the Communications Authority and saw the creation of the Zambia Telecommunications Ltd (Zamtel). He has undertaken various researches in education assessment, IT in education and ICT4D.