Aida Opoku-Mensah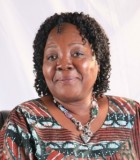 Aida Opoku-Mensah is currently Special Adviser on the Post-2015 Development Agenda at the United Nations Economic Commission for Africa (UNECA) based in Addis Ababa, Ethiopia.
This role includes coordinating activities on Post-2015 in Africa as well as working with the African Union, African Development Bank and other UN agencies on the Common African Position for the Post-2015 Development Agenda. She was previouslythe Director of ICTs, Science and Technology Division of UNECA. Whilst working in these areas she promoted Science, Technology and Innovation for Development, including strategic areas such as geospatial technology, library and knowledge management, as well as ICT for Development.
She specifically led and implemented impressive initiatives such as UNECA's African Information Society Initiative (AISI) a continental digital agenda supporting African countries to develop and implement national ICT4D policies and strategies, Technology in Government in Africa Awards (TIGA) to encourage African Governments use of technology for development, and was one of the co-architects of the Innovation Prize for Africa Award (IPA) – an initiative to encourage African innovators and inventors to enhance their roles in the Africa's development process.
She is credited with developing and overseeing the implementation of the Access to Scientific Knowledge in Africa (ASKIA) Initiative, an innovative resource to enable African scientists to access scientific knowledge worldwide. Dr Opoku-Mensah's career spans academia, as well as the public and international sectors, and in philanthropy, working for the Ford Foundation's West Africa office in Lagos, Nigeria. She established the Panos Southern Africa regional office based in Lusaka, Zambia as its first director, and has lectured at London's City University on communication policy.
She has written extensively on ICT for development, Science, Technology and Innovation issues. Aida has a PhD from the University of Leeds (UK), an MA from London's City University and a BA from the University of Ghana. She received the Geospatial World Leadership Award for 'Making a difference in promoting geospatial technology in Africa' in 2012, and the 'Africa Female Diplomat of the Year' Award from BEN TV (UK) 2012 diplomatic awards.
---
Dr. Aida Opoku-Mensah est directrice de la Division TIC, science et technologie de la Commission économique pour l'Afrique des Nations Unies (UNECA), à Addis-Abeba (Éthiopie). Dans le cadre de la mission de cette division, elle gère des sections et programmes dans le domaine des services d'information, de connaissance et de bibliothèque ainsi que dans les domaines des TIC, de la technologie géospatiale et de l'innovation pour le développement de l'Afrique. Elle a ainsi dirigé et mis en œuvre des initiatives impressionnantes, parmi lesquelles on retrouve l'Initiative africaine de la société de l'information (AISI) de l'UNECA, les Technology in Government in Africa Awards (TIGA) qui visent à encourager l'utilisation de la technologie pour le développement par les gouvernements, et le prestigieux Prix de l'innovation pour l'Afrique (PIA) qui récompense les innovateurs et inventeurs africains afin de renforcer leur rôle dans le processus de développement du continent. Elle a à son actif la création du Fonds africain pour la science, la technologie et l'innovation (ASTIEF), qui aide les scientifiques à mettre leurs inventions et le fruit de leurs recherches sur le marché. Elle a dirigé le développement et la mise en œuvre de l'initiative Accès à la connaissance scientifique en Afrique (ASKIA) – une ressource novatrice destinée à permettre aux scientifiques africains d'accéder à la connaissance scientifique depuis une application mobile. Au cours de sa carrière,
Mme Opoku-Mensah a enseigné à l'université, a travaillé dans le secteur public et international et s'est investie dans le domaine de la philanthropie en travaillant au bureau de l'Afrique de l'Ouest de la Fondation Ford à Lagos (Nigéria) et en créant le bureau régional d'Afrique Australe à Lusaka (Zambie) dont elle a été la première directrice. Avant cela, Mme Opoku-Mensah a donné des cours sur la politique de communication à la London's City University et, pendant de nombreuses années, elle a couvert les sujets politiques, économiques et sociaux africains en tant que correspondante du BBC African Service et de Radio Nederlands International – service international néerlandais. Ses 20 années d'expérience dans ce domaine lui ont permis d'être l'auteur de nombreux articles sur les thèmes du développement en Afrique. Mme Opoku-Mensah est titulaire d'un doctorat de l'Université de Leeds (Royaume-Uni), d'un Master de la London's City University et d'un Bachelor (avec mention) de l'Université du Ghana. Elle a remporté récemment le prix Geospatial World Leadership Award for Making a Difference, qui lui a été remis à Amsterdam en avril 2012 ; elle a par ailleurs été élue Diplomate africaine de l'année 2012 à l'occasion des Trophées de la diplomatie 2012 de BEN TV (Royaume-Uni). Elle siège au conseil et au comité consultatif de plusieurs organismes internationaux et régionaux.