Adejare Amoo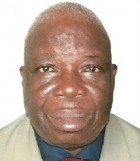 Adejare AMOO, MD, CorporateMind Associates Nigeria, is engaged in elearning and research.
He spent 27 years of his career in the Nigeria's oil & gas industry with Elf Group, Nigeria, (now TOTAL Group, Nigeria) up to the top management level. He is a certified e-author and elearning expert. He is interested in the application of renewable energy in learning.
He belongs to many relevant professional networks. He participated  in the forums  organized by the Federal Ministry of Education, Nigeria, on education reform and transformation programmes in 2006 - 2014, including the ODL Advocacy.
He was Secretary to the Science Committee of  World Petroleum Congress, Nigeria Chapter.(1997- 2005). He is the immediate past Chairman of ICT & T Group of the Lagos Chamber of Commerce & Industry. A veteran of the eLA Conferences and Exhibitions, he has presented papers and also chaired some sessions. He is a pioneer member of emerge Africa.
He is bilingual in English & French languages.