Ann-Therese Ndong-Jatta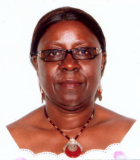 Director for Multi-Sectoral Office in Nairobi for East Africa (Kenya) and UNESCO Representative to Comoros, Djibouti, Ethiopia, Eritrea, Kenya, Madagascar, Mauritius, Rwanda, Seychelles, Tanzania, Somalia, South Sudan and Uganda.
Ms. Ndong-Jatta holds a BA (Honours) in Education, English and History obtained from Bayero University (Nigeria) in 1980 and an M.Sc. in Educational Leadership obtained from Vanderbilt University, Nashville, Tennessee (USA) in 1984. She also holds a certificate in Educational Policy Analysis, Development Studies and Evaluation from Harvard University, Boston (USA) in 1999.
Ms. Ndong-Jatta began her career in 1980 as a teacher, and thereafter held the following positions: Principal of the first secondary school for vocational training in the Gambia with the Catholic Mission (1985-1995); Coordinator of Educational Management Training (1989-1994); Chief Education Officer responsible for planning (1996-1998) and Director of Secondary and Tertiary Education (1998-1999). Concurrently, she was the Coordinator of the Education Sector Policy Review and Formulation of the Master Plan for the Gambia (1996-2003).
From 1999 to 2004, Ms. Ndong-Jatta served as the Gambian Minister of Education managing and supervising the implementation of government policies in education. During her tenure, she introduced and implemented reforms aimed at increasing access to education and was a lead player in the negotiations for the fast-track programme for EFA (now called -2-GPE) and was responsible for overseeing the creation of the first University of the Gambia which opened in 2000.
Ms. Ndong-Jatta joined UNESCO in September 2004 as Director (D-1) of the Division of Basic Education in the Education Sector at Headquarters where she was responsible for policy development, research and convening of experts on basic education related issues, literacy and early childhood development.
In July 2008, Ms. Ndong-Jatta was appointed with promotion to the post of Director (D-2) of the UNESCO Regional Bureau for Education in Africa (BREDA) in Dakar Senegal, which in November 2013 was transformed to the UNESCO Multisectoral Regional Office for West Africa (Sahel)within the context of the reform of the field network in Africa, and UNESCO Representative to Senegal, Burkina Faso, Cape Verde, Gambia, Guinea Bissau and Niger.