Magda Berhe Johnson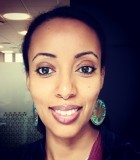 Magda Berhe Johnson is an experienced Program Manager in ICT4D. She is responsible for the Education and Learning Program at The Swedish Program for ICT in Developing Regions (Spider). This work involves program management and managing projects at an operational and strategic level. Magda has been at Spider since 2008. 
She has also worked at the Swedish International Development Cooperation Agency (Sida) as a Program Manager in ICT4D where she managed several large scale ICT4D projects. She has extensive knowledge and experience in Results Based Management (RBM) and experience in training others in the method.
Magda has a Master's degree in Poverty Reduction and Development Management from the University of Birmingham, UK, and Bachelor Degrees in Political Science and International Studies. She has always had a passion for education and learning. She was born in the capital of Eritrea Asmara but resides in Stockholm, Sweden.