Clarisse Iribagiza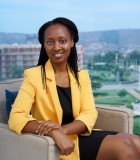 Clarisse Iribagiza is the CEO and Co-founder of DMM.HeHe (formally HeHe Labs) a leading technology company that develops innovative technologies that enable businesses to optimize their operations and reach more customers anywhere and on the go. DMM.HeHe serves over 2 million users across Africa, enabling business to offer their products and services on-demand and guaranteeing great customer experience to the last-mile.
She founded her business in 2010 at the age of 22 as a junior at University of Rwanda's College of Science where she was pursuing a BSC in Computer Engineering. This was after a Massachusetts Institute of Technology (MIT) incubation program where she was able to connect the dots between what she was learning in school and how she could immediately apply it in the real world.
Clarisse is also a member of the Presidential Youth Advisory Group at the African Development Bank and has a Master of Business Administration (MBA) from the African Leadership University School of Business.