Roland Lindenthal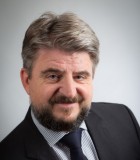 Roland Lindenthal is the Head of the Division for Education of the Federal Ministry for Economic Cooperation and Development (BMZ). Prior to this, he  had had been responsible in the Ministry for German development cooperation with South Africa and Namibia (2007-08), as well as for UN Affairs (1999-2000) and development statistics (1996-1998).
Mr. Lindenthal is an Economist, and has also worked for the International Labour Organisation ILO in both Headquarters (Geneva, 1990-96) and the field (South Africa and Indonesia) and for UNDP (Country Office Zimbabwe and Indonesia).
Roland Lindenthal ist der Leiter des Referates "Bildung und digitale Welt" im Bundesministerium für wirtschaftliche Zusammenarbeit und Entwicklung (BMZ). Zuvor war er im Ministerium zuständig für die deutsche Entwicklungszusammenarbeit mit Südafrika und Namibia (2007-08) sowie für die UN-Organisationen UNDP und UNOPS (1999-2000) und die entwicklungspolitische Statistik (1996-98).
Herr Lindenthal ist Diplom-Volkswirt; er begann seinen beruflichen Werdegang bei der Internationalen Arbeitsorganisation (ILO), für die er sowohl in der Genfer Zentrale (1990-96) als auch in Mitgliedsstaaten (Südafrika und Indonesien) tätig war; er arbeitete später für UNDP im Länderbüro in Simbabwe und in Indonesien.