Hon. Dr Eugene Mutimura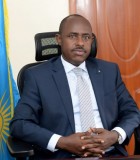 Hon. Dr. Eugene Mutimura is the current Minister of Education in the Republic of Rwanda, and ensures that the Ministry of Education develops and implements policies that provide equal opportunities to Rwandans to access high quality education through world class learning facilities and renowned learning institutions. Dr. Mutimura previously worked at the Inter-University Council of East Africa.He coordinated the Eastern and Southern African Centres of Excellence project funded by the World Bank in eight countries, to support research and education in 16 Universities.
As a trainer with substantial pedagogical and research experience, Dr. Mutimura oversees the Ministry of Education policies that underpin national agenda to collaborate with African colleagues utilizing technology to transform education and research, as well as advance scientific discovery to leverage national and regional labour market opportunities.
Dr. Mutimura believes that the most valuable investment lies in education, and nurturing of talents for young scientists. With the support from the Government of Rwanda, and in collaboration with various partners, the Ministry of Education will continue to contribute and advocate for improved commitment and investments in science and research to advance Rwanda's vision to become a knowledge-based economy.