Gilford Hapanyengwi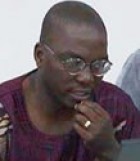 Company-Institution:
University of Zimbabwe
Job Title:
Director of Computer Centre
Current Responsibilities:
Gilford is charged with leading the designing and implementation of the ICT strategy of the University of Zimbabwe. This includes the actual coming up with the strategy and integration of the strategy into the university polices. Of significance is the computerization of the university campus, an E-Applications project, and development of a new administration information system.
Related Experiences: Gilford was on the Research Council of Zimbabwe where he was the head of the Informatics subcommittee. He is a member of the Zimbabwe National UNESCO commission on Information and Communication Technology. He is and has been involved in a number of national, regional, and international ICT related initiatives. He is a trained Computer Scientist to Doctorate level.