Dr Mor Seck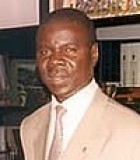 Mor SECK is Organization and Public Management Adviser within the Bureau for Organization and Methods of the President Office in Senegal. He was for 10 years the President of the Association of African Distance Learning Centre (AADLC) and for 15 years the Manager/Director of the Senegal Distance Learning Centre – part of the Global Development Learning Network (GDLN) set up by the World Bank – since its launch in 2000. He is also a lecturer in the University of Dakar, the National School of Administration and in some other Higher Education training institutions in Senegal. He has been working for the Public Sector/Administration at a senior level for about 30 years. He has occupied several senior positions within the Ministry of Youth and Sports, the Ministry of Modernization of the State and he has been working for the Delegation of Public Management of the President Office as a Senior Public Management Adviser before joining the GDLN Centre in Senegal.
Mor SECK has an academic background of an Economist specialized in Management, Public Administration, Development, and Public Policy.  He graduated from prestigious universities and training institutions. He is holder of a Ph.D. in Management Sciences and a Master's degree in Public Policy and Management from the University of Manchester in the UK, a Master's degree in Management and Public Administration from the University of Antwerp in Belgium and a Master's degree in Economics from the University of Dakar in Senegal.
He is also a recipient of several Diplomas and Certificates in the area of Public Management, and the like from various training institutions such as the Management and Coordination Agency (MCA) of Tokyo in Japan, and he has obtained a Certificate in Academic English from the Edinburgh Language Foundation in Scotland.
He has attended several International Conferences, Workshops and Symposiums worldwide as participants and/or resource person in various areas of interest like Capacity Development and Partnerships, ICT for Education and Development, Public Sector Reform, Human Resources Management.
He has conducted several training programs as well as strategic capacity development policies and programs for the staff of the Public Administration in Senegal and abroad. He is an Independent Member of the African Capacity Building Foundation (ACBF) Executive Board and he was awarded the Senegal National Honorary Distinction of Merit since 1996 and the highest Senegal Honorary Distinction of Lion since 2009.